Harvard Takes On An Outsider Tinge
This announcement came on Friday last week,
long after I'd left Boston
, but I want to highlight it just the same: a large trove of outsider art and folk art has been given to the Harvard Art Museums by Didi and David Barrett. That Harvard accepted it says something encouraging about outsider and folk art, but there was more: the gift, of 38 drawings and painting "take[s] our holdings of American contemporary art in an exciting new direction," Thomas W. Lentz, the museum's director, said in the
press release announcing the gift
.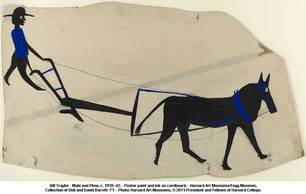 Presumably, that signals that Harvard will not only not put this in the storerooms, but will show it and encourage students to study it and compare/contrast it.
The Barrett gift includes work by 28 artists, working between the 1930s and the 1990s; among the artists are Bill Traylor, Joseph Yoakum, and Nellie Mae Rowem. It also includes three rare "ledger book drawings" made by members of the Plains Indian tribes in the late 19th century.
Here are some highlights:
...Bill Traylor's Mule and Plow (c. 1939-42), drawn with poster paint and ink on cardboard (above). Thornton Dial Sr.'s Talk Show (1990s) and Life Begins with Crawling (1992) are two of the largest paintings in the collection. Talk Show (1990s), an image of Oprah Winfrey, makes use of wire screen, lids from paint cans, and industrial sealing compound to fashion a rich, three-dimensional painterly surface that recalls abstract expressionist works.

...also...three paintings by Howard Finster, including If A House Be Divided against Itself That House Cannot Stand (c. 1978)....[and] Three works by Felipe Jesus Consalvos, a Cuban-born artist...Grins and Chuckles (c. 1920-50) portrays George Washington with a zeppelin under his arm, surrounded by an array of cut-out figures from American history.
Whether or not you appreciate outsider art and folk art -- and I know some of my readers do not -- both categories of art are worth academic study and evaluation. That's why this gift is good.
Photo Credit: Courtesy Harvard University