SHIP'S LOGBOOK and other great places
Saturday, December 31, 2011
Thursday, December 29, 2011
Young of the Year
—for Cora Jane Lea
A small hare's stride displays itself in snowdust up on this knob
that we call The Lookout. Young of the year.
I whisper the term our old folks use to name
a prior spring's wild things—or the year itself, young year.
New grandfather now, have I a right to the phrase? I speak it no matter.
To me its assonance appeals;
its heft of optimism and forward-looking
correct a mood. It's a counter-cry to my vain appeals
to some power unseen that it remake me into a youthful man,
that it change this world. I scrutinize
a certain mountain's western flank, ravines
turned to fat white rivers in winter. I likewise scrutinize
myself in relation to mountain. I used to charge her up and down
in a slim few hours. Today I wonder
if I'll climb there again, my strength and stamina less
than once they were. What isn't? The mountain. The mountain's a wonder.
With inner eyes I see its trees, knee-high at 4000 feet.
I see myself step onto aprons of stone
at her summit. I'd never have dreamed how much I'd love it,
loving that child. In youth the thought would have turned me to stone.
On The Lookout's granite, a wisp—unidentifiable, blooded—of fur.
So many hundreds and thousands of victims
in a cruel season. Behind the mountain an airplane
aroar to put me in mind of bombers searching out victims.
In time it may even be that I'll prefer to see her from here,
not here from her. I mean the mountain.
Wonders never cease, it's rightly said.
Those inner eyes go back and forth from infant to mountain,
where even now in January the hardwoods' fraught tight buds
display their purple, enduring signal
of spring. Which will come. Which has never failed to come.
Already the girl and I have developed private signals:
I can waggle my tongue at her, or flutter my fingers, and make her smile.
I can lie back humming in uncanny peace,
child on my chest, and I can remember how
I held her father. But I think I hold her better. Peace:
perhaps it's for this one exchanges his further dreams. And perhaps I know
what's worth the knowing here on earth,
among its weather-decked hills, its beasts and birds
in their ceaseless cycles, migrations. Of course the glorious earth
will take me back, of course the young-year hare give profligate birth.
Young of the Year
Four Way Books
Charles Bukowski's 1971 letter outlines terms for poetry reading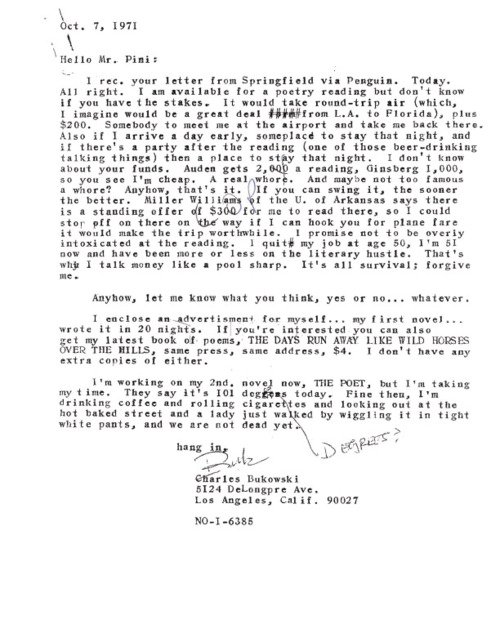 "I am available for a poetry reading but don't know if you have the stakes. It would take round-trip air (which, I imagine would be a great deal from L.A. to Florida), plus $200."(Via This isn't Happiness)
Wednesday, December 28, 2011
A Poem A Day: Portable, Peaceful And Perfect
Published: December 26, 2011
by Alan Heathcock
Alan Heathcock is the author of Volt.
I hadn't slept well, had to get my three kids to three different schools in three different cities, had deadlines piled on deadlines. I leaned my head against my bookcases and there, at eye-level, was a book of poetry by Mary Oliver.
I randomly opened to the poem "Egrets." Like magic, I was pushing through catbrier to the edge of a pond, where I watched "a spindle of bleached reeds" become egrets and "unruffled, sure, by the laws of their faith not logic, they opened their wings softly and stepped over every dark thing."
I closed the book, transformed, bolstered from the inside out.
From that day forward, each morning I read a poem. Even with a crazed daily docket, I can manage a minute or two for the words, reading while waiting for the bread to toast, sitting in a school parking lot. I've read poems at jury duty. At Jiffy Lube. Once, at a football tailgate, I read a poem in a Portajohn.
That's the practical greatness of a poem. They don't take much time, travel well, don't require any plug-ins or accessories. It's the ancient and perfect technology of words on a page that make you imagine beyond your means, make you feel the truths of lives that are not yours, and contemplate the life you have.
One morning James Dickey urged, "Lord, let me shake with purpose. Wild hope can always spring from tended strength." Another morning, Belarusian poet Valzhyna Mort told me her little grandmother knows no pain, and "...believes that hunger — is food, nakedness — is a wealth, thirst — is water."
There were sweet and playful mornings, like when Matthew Dickman proposed, "I loved you the way my mouth loves teeth," and all day I smiled, imagining my lips and teeth embracing. There were reflective mornings, like when Reginald Dwayne Betts confessed, "I was never enough saint to leave sin with the devil, leave my lies unsaid."
The older I get, the more life passes in a harried traffic of cars and people and events. This world of shallow speed often sends me to sleep feeling I've been to battle. Battle at dance practice and the soccer game and the drive-thru window, battle to pick up the dry cleaning and get the kids new shoes before I have to attend parent-teachers conferences. Battles at work, battles in my relationships, battles with myself. If you're like me, you long for a bit of quiet, a morning in the chapel, a walk in the woods. If only I had the time to still my mind, take an accounting of myself, find my balance once again.
I'm not a poet. Not much of scholar. Just a guy looking for a little peace in the mad scramble that is life. For me, this peace is a poem. A poem each morning, to sustain me through my days with the faith of an egret stepping over every dark thing. [Copyright 2011 National Public Radio]
Blog Archive