Found: Constable sketches that lay forgotten in a cupboard
Drawings by English master to go on sale at Christie's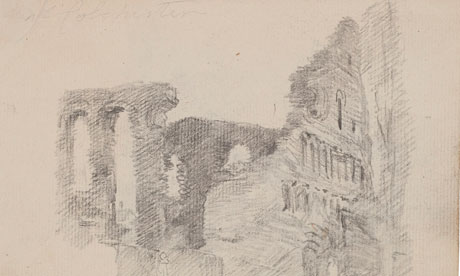 Fifteen previously unknown drawings by Constable have been discovered after lying forgotten in a cupboard, their significance overlooked.
The owners doubted the drawings could be by the 19th-century master of English landscape, despite a note on the "tatty" wrapping paper that read: "Original sketches by Constable." But more than six decades after their late father bought the drawings, the owners tentatively showed them to an expert.
"Your eyes almost pop out of your head when you work through a folio of drawings and realise the majority probably are by Constable," said Rosie Jarvie, the Christie's specialist who identified them as rare working drawings. "Never have I come across 15 [Constables] in one batch."
The folio contained 20 pencil sketches. Research revealed that 15 are by Constable and five by Thomas Stothard, a walking companion of Constable's. They would both sketch, and Stothard caught butterflies. Constable once said that these walks were his friend's chief relaxation from the "drudgery" of working for publishers.
Dating from different periods of Constable's life, the drawings include preparatory sketches for masterpieces. They were never intended to be shown in public, but today they enhance our knowledge of the artist.
When Jarvie first received a call asking her to view the drawings, she was sceptical: "But I've been trained to keep an open mind because things do happen." She immediately saw the hand of a painter whose intense observations of nature inspired generations of artists. His masterpieces include The Hay Wain in the National Gallery and The Lock, also to be sold by Christie's for an estimated £25m.
The artist spent seven autumn weeks in the Lake District in 1806, where the poetry of the landscapes inspired him. The discoveries include a lake scene which relates to his View in Borrowdale, now in the Victoria & Albert Museum. Jarvie said: "This is a beautiful moody drawing, museum-quality."
One sketch, Elm Trees in Old Hall Park (1802), is particularly important and rare, revealing the technique that Constable developed for recording scale when working directly from nature. It shows how he created the final work, which is also in the V&A. Constable attached a pane of glass to his easel, tracing outlines on the glass then pencilling them on to a squared-up sheet.
The discovery also includes sketches of ships, the ruins of St Botolph's Priory, Colchester, and the Stour with Stratford St Mary Bridge, on which he drafted a letter to an unknown recipient. It refers to the rector Dr Rhudde, who disapproved of Constable's relationship with his granddaughter, Maria Bicknell, who later became his wife. Constable wrote: "[Rhudde] is at the sea, but I suppose his return will be a signal for me to fly."
The collection is expected to fetch around £50,000 at auction on 3 July. The owners wish to remain anonymous, but said their father was a cultured man with a passion for drawings.