Tag Sale Wonder: From $3 to $2.23 Million
You can't make this up. Some lucky person who purchased a pretty white bowl at a tag sale in 2007 for "no more than $3″ has now sold it for $2.23 million. It happened at Sotheby's this morning.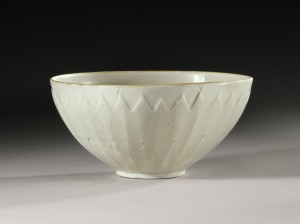 Apparently, after displaying it in their home for a few years, the owners — names undisclosed, naturally – got curious and took it to Chinese art experts. They recognized it as a Northern Song dynasty specimen. It ended up in the Sotheby's sale with an estimate of $200,000 to $300,000. labeled "Rare And Important 'Ding' Bowl Northern Song Dynasty
."
It
measured just 5 inches in diameter.
Four bidders in the room and on telephones actively sought the little bowl this morning, and it eventually sold "after a prolonged battle" to London dealer Giuseppe Eskenazi for $2,225,000.
Per Sotheby's:
The bowl is a remarkable and exceptionally beautiful example of Song pottery, celebrated for its thin potting, fine near-white body, and ivory-colored glaze. The only known bowl of the same form, size and almost identical decoration has been in the collection of the British Museum in London for over 60 years having been bequeathed to the museum by the prominent British collector Henry J. Oppenheim in 1947.
I wonder what the tag sale owner will think, if he or she ever finds out.
Photo Credit: Courtesy of Sotheby's